Poetry is many things to many people. This includes form for some, no form for others; imagery, rhythm, a play on words, bent or even broken grammar and spelling rules, perfect rhyme, slant rhyme, no rhyme... you may like some more than others, and some you may not like at all. Poetry is written from the heart of the poet, an outlet for emotion, some pleasant or even funny and others quite dark. Some poems will resonate with certain people, and to other people the poem may make no sense at all. The reader may even get some meaning out of the poem that was completely unintended by the poet. And that is what makes poetry so beautiful to me.

Let me give you an example: my poem "Swift" uses a play on words. The surface of the poem appears to talk about love, one person stealing another's heart. If that is how it speaks to you, then you got what you needed from the poem. However, a part of the poem says "...by SLIGHT of hand and swift of feet..." Now, if I were to use the appropriate term it would have said "sleight" which means cunning and skillful. But, by using the form of the word "slight" it changes the meaning of the poem ever so gently to mean "negligently" and in fact almost rudely as in to be "slighted" and simultaneously it means that he was insignificant and tiny in the scheme of things (even though he wasn't it was how I felt at the time.) That is how I meant the poem when I wrote it because, although it is true that he did steal my heart, he also broke it afterward and therefore it was rude and negligent to steal it in the first place and he became insignificant to me after I healed.

Another is the poem "One in the Same." If I'd used the appropriate phrase it would say "One and the Same" which means it is one and it is the same. By instead saying "in" it transfers the meaning to the internal emotion of pain and love merging together INSIDE me to be indistinguishable. The meaning itself is mostly the same, but it is made clear that it is internal by using the word "in."

In my new book that will have all of the poems (no photos) from the four seasonal published books, plus almost 70 additional poems so far, I am placing tidbits such as this to help the reader that may not fully know poetry to find the rhythm or the subtlety of the poem, or for those that do know poetry to understand what I meant when I wrote it. Where someone who is a stickler for rules may instead see a grammar or even a spelling error, rest assured it was intentional so that the meaning of the poem is changed or so that the focus is shifted slightly. Some are very subtle, and some are blatantly obvious.
Powered by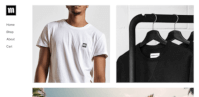 Create your own unique website with customizable templates.